ANIMAL CRUELTY COUNCIL...
Tourism brochures and publicity leads people to believe that in San Fulgencio all things are bright and beautiful for all creatures great and small. However, despite denuncias and appeals led by Mark Lewis, the foremost animal welfare protagonist and founder of the Pets In Spain animal welfare charity, on Friday 16th January 2015 the San Fulgencio council continued the annual barbaric tradition of collecting live animals, hanging them upside down on a pole tied with zip ties, and parading them around the village streets. During the cruel procession local children look on in bewilderment. Even more ironic is that the councillor for animals, Susana Ortuno (the niece of the mayor) is in this cruel procession playing the clarinet in the San Fulgencio municipal band!

The San Fulgencio council Facebook page has a collection of photos which shows Mayor Carlos Ramirez and his government team grabbing the live animals and stringing them up on a pole for their long torment before their final fate!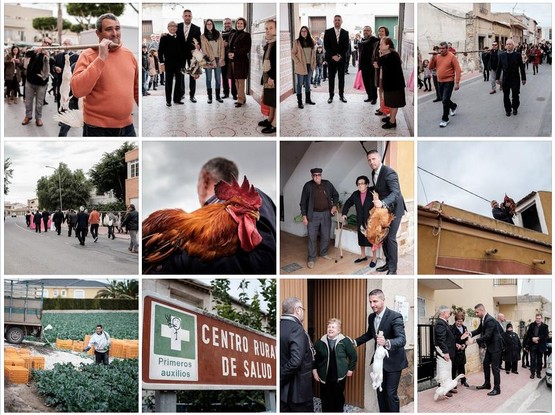 https://www.facebook.com/aytosanfulgencio/photos_stream

http://www.laverdad.es/alicante/orihuela/201501/17/vecinos-vuelcan-tradicional-recogida-20150117001845-v.html?fb_ref=Default&fb_sourc e=message



A WARNING FOR ALL PET OWNERS IN LA MARINA AND LA ESCUERA URBANISATIONS:
A German Shepherd that was allowed out by his owner to roam the streets killed a local residents pet dog in a horrific incident. The same rouge dog was reported to the police and English deputy mayor Jeffrey Wiszniewski in 2012 when it attacked and killed another residents beloved Yorkshire Terrier, unfortunately nothing was done and the dog was consistently allowed to roam the streets. For advice on what to do if you suspect a dog is about to attack your pet visit this web page: http://www.vetstreet.com/our-pet-experts/how-to-break-up-a-neighborhood-dogfight-safely

In another incident a local residents dog bolted from his home after a loud noise spooked him, also on La Marina urbanisation in the middle of the hot summer. Only a few minutes had passed before the owner realised that their pet dog named Pukas was missing and they went searching for him. Their beloved family pet had already been picked up by a Cereco van (the animal collection company that San Fulgencio Town Hall has a contract with to tour the urbanisation and collect strays). Little Pukas was subjected to a torturous journey around the Costa Blanca in the back of the Cereco van as the driver searched and collected other strays in other municipalities before arriving at their warehouse in Crevillente eight hours later. With no air conditioning or water available in the van for collected strays Pukas was dead on arrival. The owner of Pukas denounced Cereco and the local council.

Since the local elections in 2011 the council has maintained a contract with Cereco despite many cats and dogs having suffered terribly and many been killed by the Cereco company, most of them behind closed doors after their arrival in the collection centre in Crevillente. Cereco have a contract with more than 40 Town Halls to collect strays from their municipalities, it is Cereco that the provide the final solution!